Description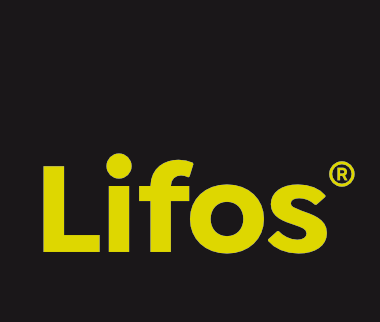 LIFOS 68Ah Lithium Leisure Battery
12.8V 68Ah 870Wh
Weight: 7.8kg
Equivalent to a 120Ah lead acid battery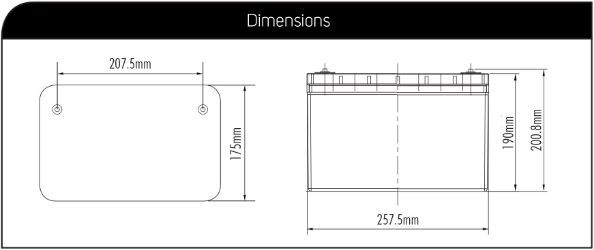 Lifos 68 is the ideal swap out for a caravan boat or RV battery. Without the need for additional charging equipment Lifos 68 is a direct drop in exchange for a lead acid battery. But unlike the lead acid equivalent Lifos 68 weighs much less lasts much longer and comes with a smart device Bluetooth app to keep you informed of the battery performance at all times.
The Lifos 68 provides a massive 2750 cycles (note – a cycle is considered a full charge and discharge) at 90% depth of discharge ensuing that 61.2Ah of usable power is available. Compare this to a lead acid battery with a typical 50% DOD and it's clear that a 120Ah gross capacity will be needed to replicate the power of Lifos 68. And yet Lifos is a third smaller in size and a quarter the weight. Its huge 2750 cycles (at 90% DOD) jumps to an even more impressive 3500 cycles at 75% DOD – that's nearly 10 years of trouble free operation.
Lifos 68 can be connected with four batteries in series or parallel if a power bank is needed and each battery's internal BMS ensures all the lithium cells are perfectly balanced to give outstanding and reliable performance.
Fitted with a Bluetooth app you can keep abreast of the vital information at all times when connected to an Android or Apple smart device. Information such as current voltage power (w) and state of charge can be interrogated at any time and the smart operating system will even send you a warning well before the battery gets to a low state of discharge giving plenty of time to get it recharged.
BATTERY MANAGEMENT AND COMMUNICATION SYSTEM
LiFOS has uniquely designed hardware/software integrated into each battery which allows it to:
Operate heavy loads up to 1000w (e.g. caravan motor movers)
Protect the battery from deep discharging
Be charged by most mains lead acid battery charger <40Ah vehicle alternator or solar panel
Speed up charging times whether being powered by mains or solar
Provide users with a unique view of the charge and discharge performanceof their battery on a smartphone via a simple-to-understand Android
or Apple App. This free to download App provides extremely accurate information – generally far more so than a typical analogue battery meter. The App once connected to a smart device will also sends users a reminder to put their LiFOS on charge once it has been discharged to 30% thus further prolonging its life.
The BMS has also been specially designed to allow LiFOS to perform when using a DC to DC charger. LiFOS is compatible with these manufacturers products:
| | | | | |
| --- | --- | --- | --- | --- |
| Charger Specification | Compatible | Recharge an over- discharged LiFOS Battery? | Able to charge LiFOS? | Recommended Settings |
| Sterling BB1230 | YES | YES | 100% | LiFePO4 charge mode |
| Ring RSCDC30 | YES | YES* | >80% | BULK charge 14.4V~14.6V |
| CTEK D250SA | YES | YES* | >80% | Automated 14.4V |
*The LiFOS battery will go into dormant mode when battery voltage is < 8V and battery output is 0V. Please contact us or use a specific LiFePO4 battery wall charger to recharge it for 3-5 minutes which will release it.
CONNECTIONS
LiFOS is fitted with removable terminal posts (round terminals) compatible with caravan quick release connectors so that it can fit in the smallest space possible. The posts can be removed and ring (eyelet) terminals connected directly onto the terminal plates. In addition up to four LiFOS batteries can be joined in parallel to create a powerbank of 272Ah or 48V.

WEIGHT
LiFOS is a featherweight 7.8kgs. When compared to a good quality 120Ah lead acid battery at circa 34kgs LiFOS gives an impressive 77% weight saving – and in motor campers caravans and boats saving 27+ kilograms can be crucial.
INVERTER USE
We would recommend a maximum of 1000W inverter to be used with Lifos; any larger load could spike the BMS and cause a shut down.
MOTOR MOVERS
Some motor movers can be used however the Amp/current demand should be checked before purchase – Motor movers can demand a huge amount of power and will cause the BMS to shut down in order to protect the battery. A single/dual motor should be ok but quad motors will likely demand more than the maximum current rating of the battery.
HEATER USE WITH LITHIUM/INVERTERS
We have always recommended not to use electric heaters when on battery power regardless of chemistry. If it is required we would advise looking at a battery capacity a few sizes up to avoid disappointment.
SAFETY
LiFOS does not emit noxious gases therefore does not need to be housed in a specially vented chamber. LiFOS has a huge operating temperature range of -20 to +60 °C and it can be used in any orientation (e.g. on its side) although on its base will give the best performance.
Like all batteries it should not be allowed to discharge fully over a long period and if it will be left without any power input for a 6-month period the LiFOS must be charged. A warning will be sent via the App as a reminder.
Note: LiFOS can discharge in temperatures down to -20°C but cannot receive a charge at any temperature lower than 0°C. If LiFOS is housed within a housing such as a caravan battery compartment or similar it should be protected from freezing temperatures. If however LiFOS is exposed to the elements it should be placed inside a battery box or similar with some level of insulation.
Cost
LiFOS costs £699 (inc VAT RRP) which is of course much higher than a 120Ah lead acid or gel battery. However the number of times it can be charged and discharged is anything up to six times more so looking at the cost per cycle is important when considering the value of a battery purchase. The examples below in the comparison are both from the NCC verified batteries category A (Highest Catagory):
| | | | |
| --- | --- | --- | --- |
| Battery | Cost | No. of charging cycles | Cost per cycle |
| LiFOS 68Ah | £699 | 2750 | 25.4p |
| Exide ES1350 120Ah Gel | £250 | 400 | 62.5p |
| Platinum PAGM120-12 120Ah AGM | £240 | 500 | 48p |